Kuno Arndt von Steuben
(09.04.1855 - 14.01.1935)
place of birth: Eisenach, Thüringen (Thuringia)
Königreich Preußen: OBH, General der Infanterie

General der Infanterie Kuno von Steuben served Imperial Germany during the Great War as a corps-level commander on the Western Front, and later as a field army general in Macedonia. He was distant relative of Friedrich Wilhelm von Steuben, organizer of America's military forces during the Revolutionary War.

When Germany mobilized in the summer of 1914, von Steuben was in command of XVIII Reserve Corps which was attached to Duke Albrecht's Fourth Army during the First Battle of the Marne. His forces were transferred in 1915 to Crown Prince Friedrich Wilhelm's Fifth Army, seeing action in the autumn at Champagne, for which he was awarded the Pour le Merite from the Kaiser himself. His corps was also engaged at Verdun in 1916. In the summer of 1917, von Steuben was transferred to Macedonia to replace General Arnold von Winckler as commander of the Eleventh Army, a position he maintained until war's end.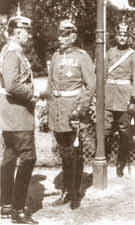 Potsdam 1912: General von Steuben meets with the Kaiser


Kuno Arndt von Steuben was born on 9 April 1855 in Eisenach, Thuringia, also the birthplace of Johann Sebastian Bach. He was the eldest son of eight children born to Major General Gottlieb Arndt von Steuben and Julie Antoinette von Tschirschky und Boegendorff. At the tender age of 13, young Kuno entered the Imperial Prussian Military Academy at Oranienstein, transferring three years later to the Imperial Cadet Institute in Berlin. As a newly-commissioned lieutenant, he began his military career with Niederrheinisches Füsilier-Regiment Nr. 39 garrisoned in Düsseldorf. He later married his regimental commander's youngest daughter, Martha Wilhelmine Franziska Wesener. Von Steuben spent a good deal of the pre-Great War years serving on the Great General Staff where he made a reputation for himself as industrious, conscientious, decisive, yet unassuming.





"...an absolutely splendid chief of staff."
Field Marshal Alfred von Schlieffen - Prussian Chief of General Staff (Berlin 1903)


"...a remarkably capable leader and divisional commander, certainly destined for a higher level of service."
General August von Mackensen - v. Steuben's Corps Cdr (Danzig 1912)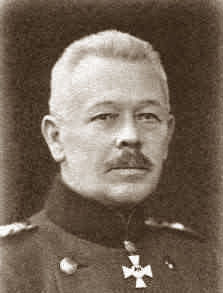 With these qualities, he quickly endeared himself to his superiors in Berlin. He served for four years as Chief of the Military Maneuvers Planning Office, and for three years as Oberquartiermeister, or Senior Quartermaster General. As a career staff officer, von Steuben never commanded at the regimental or brigade level, but when he was promoted lieutenant general in late January 1911, receiving command of the 36th Infantry Division in Danzig, he quickly distinguished himself as a competent front-line strategist.

One year prior to war's breakout, von Steuben was appointed as Director of the Imperial Prussian War Academy in Berlin. This posting typically signified the end of one's career, but Chief of General Staff von Moltke so prized the Generalleutnant's expertise and leadership, that he appealed directly to the Kaiser to have von Steuben temporarily promoted general of infantry so that he would later be transferred to command an army corps. With Germany's general mobilization, this point quickly became moot as he received command of XVIII. Reserve Corps. Along with his Chief of Staff, Colonel Fritz von Studnitz, and two divisional commanders, Lieutenant General Hermann von Rampacher (21st ResDiv) and Lieutenant General Alexander Torgany (25th ResDiv), the XVIII. Reserves marched into battle with Duke Albrecht's Fourth Army as it pushed its way to the River Marne. They later saw action at places such as Neufchateau, Tremblois and Charignon. As the war settled into the trenches, his corps was transitioned to form the right wing of Crown Prince Wilhelm's Fifth Army. The XVIII. Reserves were also engaged in the autumn battles in Champage, for which von Steuben was awarded the Pour le Merite. Later, during the battle for Verdun, they took part in the September 1916 attack on Fort de Souville.



"...although cold-blooded in battle, he takes a personal interest in each soldier and horse under his command. He thus enjoys great popularity among his subordinates."
Crown Prince Wilhelm - Commander Fifth Army (France, June 1915)


"...bright and capable, his steady and circumspect leadership was tried and tested through his personal involvement during the many offensive and defensive engagements."
Friedrich von Scholtz - Commander Army Group von Scholtz (Dec 1917)


June 1917 saw von Steuben making his way to the Eastern Front where he replaced general of infantry Arnold von Winckler as commander of the Eleventh Army. This army was the legacy of Field Marshal August von Mackensen and was comprised of both German and Bulgarian troops. Here von Steuben distinguished himself especially during the final days of the war as a decisive yet prudent leader. He thus earned a deep and genuine respect from his subordinate officers and troops, resulting in the maintenance of a disciplined force even as the war ended in defeat for Germany.



| | |
| --- | --- |
| von Steuben Coat of Arms | General Kuno von Steuben's three brothers were also high-ranking German officers during the war: Berndt was a colonel in the III. Army Corps, Ernst was a lieutenant colonel, and Anton was a major general. Kuno's only son, Arndt Ernst von Steuben, served as a general staff officer in the 1st Imperial Guards Division. After the war, von Steuben officially retired from the military. In 1931, he was invited by the U.S. government to represent his family during the 150-year commemoration of the Battle at Yorktown. Von Steuben died on 14 January 1935 and is buried at the Invaliden-Friedhof in Berlin. |
| | | |
| --- | --- | --- |
| | General der Infanterie | 19.08.1914 |
| | Pour le Mérite | 13.10.1915 |