Hermann Gottfried Emil von Eichhorn
(13.02.1848 - 30.07.1918)
place of birth: Breslau, Niederschlesien (Wroclaw, Poland)
Königreich Preußen: KIA, OBH, Generalfeldmarschall


Imperial German Field Marshal Hermann von Eichhorn served as commander of the Tenth Army throughout most of the Great War. He began his military career as a Fahnenjunker in 2nd Foot Guards Regiment, with whom he saw action in 1866 war with Austria, first at Soor, then at Königinhof and Königgrätz. Von Eichhorn also also served during the Franco-Prussian War of 1870-71, chiefly as battalion adjutant for the Foot-Guards. Prior to the Great War, he served in several general staff positions, eventually becoming the Inspector General for Seventh Army Inspectorate - Saarbrücken - and earning in 1912 the Order of the Black Eagle.

General von Eichhorn would have been slated to command a field army as the sabers rattled throughout Europe, but in May 1913 he was seriously injured in a horseback riding accident in the vicinity of Metz. Although he was completely healthy by July 1914 mobilization, all high command positions had already been filled. He thus whiled away the first few months of the war but finally got approval from the Kaiser himself to temporarily command a Leib-Grenadier regiment in January 1915, seeing heavy action at Soissons. Later that month he was transferred to command Tenth Army on the Eastern Front, where he was awarded the Pour le Merite in 1915 for the storming of the Fortress of Kovno; he likewise successfully commanded Landwehr and Landsturm troops during the winter battle at Masurian Lakes. Von Eichhorn remained in command of the Tenth until 1918, also concurrently serving as commander of his own army group. For the final months of the war, he lead the troops of Army Group Kiev as they occupied Ukraine and thus received the moniker of "Uncrowned King of Ukraine."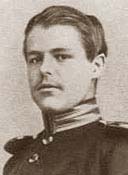 Leutnant - 1866
Hermann was the son of Karl Friedrich von Eichhorn, a high-ranking politician in Minden, and Julie Schelling. His grandfather Johann Albrecht von Eichhorn was also a noted Prussian statesman and Prussian Cultural Minister. His grandfather on his mother's side was the noted philosopher Friedrich Wilhelm Schelling. Eichhorn's son Wolf served during the War as a Kapitänleutnant in the German Navy. A highly educated and cultured field marshal, Feld Marshal von Eichhorn was assassinated on 30 July 1918 by a left-wing revolutionary in Kiev. He is buried next to GFM Alfred von Schlieffen at the Invaliden Friedhof in Berlin.


* * *




| | | |
| --- | --- | --- |
| | Generalfeldmarschall | 18.12.1917 |
| | Eisernes Kreuz II | Deutsch-Französischer Krieg 1870–1871 |
| | Pour le Mérite | 18.08.1915 (Eichenlaub: 28.09.1915) |